Effective and Affordable Pest Control Services in Melbourne
Welcome to the company, CBD Pest Control Melbourne, where people in Melbourne and its suburbs find affordable effective solutions for pest issues. Our professional experience of 25 years gives us the power to deliver excellent and fast pest treatments in the city. We can deal with the worst situation of a pest-infested home. Our professionals consider all your Melbourne pest control requirements for giving you a pest-free lifestyle.
Moreover, we are the appropriate pest inspection Melbourne company to control and prevent pests and make you capable of doing your business or living a life without any tension of pests on your property. We always make ourselves better and make our service methods more satisfying, eco-friendly, and sustainable. So, call us now to get a schedule for a Melbourne pest control service.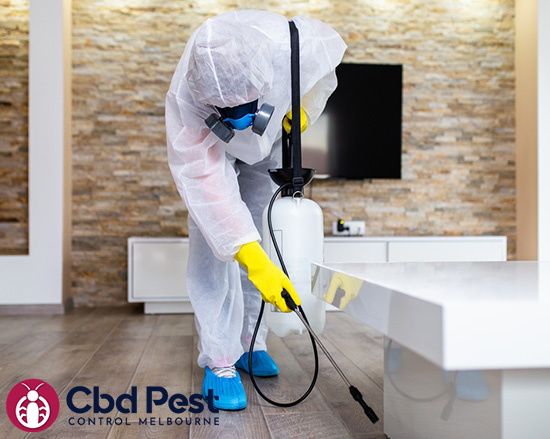 Services Offered By CBD Pest Control
At CBD Pest Control Melbourne, our experts and services are famous for their effectiveness and best results. We know that people often have to suffer from a lot of problems because of pests. These following services can be saviour for your pest-infested homes and businesses.
Ant Control
Putting an end to ant invasions with precision and care.

Bed Bug Control
Swiftly and comprehensively eliminating bed bug nuisances.
Why Choose Us:
At CBD Pest Control, We Stand Out Because Of
Eco-Friendly Solutions
Find here the best pest treatments with eco-friendly ideas. We are well-acknowledged in Melbourne for offering eco-friendly pest control services.
Customized Approaches
We use the latest methods and always try to upgrade our strategies for controlling pests. Book here customised approaches for any pest like cockroaches, rats, ants, spiders, silverfish, etc.
Safety First
Our methods and procedures are safe. We keep your safety first and accordingly plan the treatment.
Experienced Team
We have been serving Melbourne and its suburbs for many years and provide services as per the customers' requirements. Our pest exterminators are very talented and customer-friendly.
Fixed Price Guaranteed
Find here cost-effective pest control services for all pests. Don't miss the chance to book affordable pest control services in Melbourne.
Service Areas:
Melbourne and Nearby Suburbs
Our professional pest control services are accessible Melbourne-wide. No matter where you want to get a pest inspection and control done, we can quickly reach you anywhere in Melbourne including the outskirts, CBD areas, Metropolitan areas, and suburbs.
Our Pest Control
Process and Management
At CBD Pest Control Melbourne, find solutions for all pest infestation situations based on your real problems. From initial inspection to final eradication and prevention, we can plan everything for your residential pest control services in Melbourne.

Thorough Inspection
We do a full inspection to make a report of your pest-infested area. We have tools and techniques by using them, we make sure what kind of pest infestation is growing in your home. Our service providers use their pest removal methods according to the level of pest growth and type of pests.
Treatment Plan
With the insights from our inspection, we create a customized pest control strategy. Our approach is carefully tailored to address your specific situation.

Treatment Implementation
Whether it's ant control, bed bug removal, or handling stinging insects such as bees and wasps, our treatments effectively eradicate pests and ensure the safety and well-being of your surroundings.
Ongoing Monitoring
Even after treatment, you can maintain a connection with our team to ensure the elimination of pests in the future. This ongoing connection is a crucial step in confirming the effectiveness of our methods and providing you with peace of mind.
Preventive Measures
To safeguard against future infestations, we offer expert guidance on making your property less inviting to pests. This includes advice on sealing entry points, implementing proper sanitation practices, and other preventive measures tailored to your situation.
Knowledge Sharing With Customers
We firmly believe in sharing our expertise with customers. We take the time to educate you about the pests we've encountered, their habits, and how to spot early signs of infestations.
Emergency Pest Control Services in Melbourne
At CBD Pest Control, we're dedicated to delivering a comprehensive and customer-centric emergency pest control service in Melbourne and the nearby suburbs under 100 Km that ensures your home or business gets pest-free within a few hours of your request. Connect with us today, and let's create a pest-free environment together.
Customer Satisfaction Is Our Top Priority
Don't just take our word for it; hear from our satisfied customers: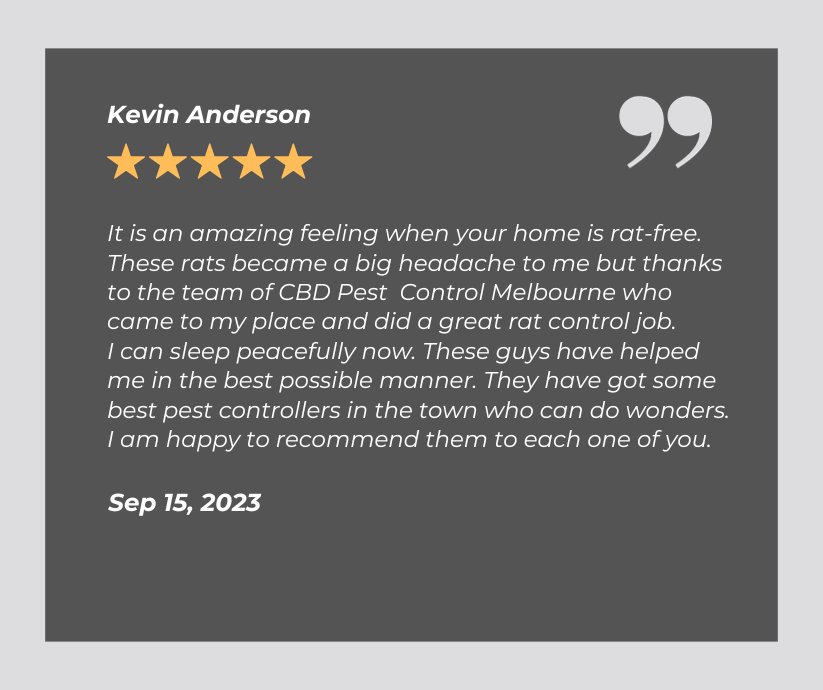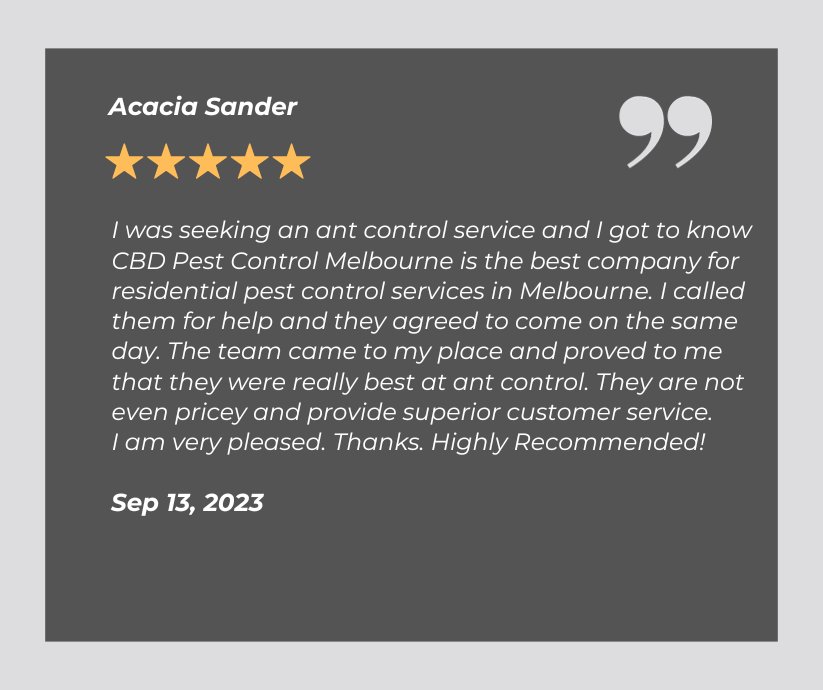 Ready To Take Action Against Pest? Get A Free Quotes Now!!
Looking to rid your home of pesky pests? Don't wait any longer! Reach out to us today for your free, no-obligation quote. Our commitment to competitive pricing and frequent special offers means pest control is within everyone's reach. Say goodbye to unwanted guests – contact us now!
Need Help?
Reach out to us Now!
Address
330 Collins St, Melbourne, VIC 3000 Australia

Opening hours
Mon-Sun 6:00 AM – 9:00 PM
Experience The Difference With Our Advanced and Powerful Truck Mounted Pest Control in Melbourne
Prefer CBD Pest Control to find suitable and natural solutions for pest infestations in homes and businesses. We have everything for your safety and quick execution of the treatment including experience, eco-safe practices, and truck-mounted pest control system. You can get pest-free any day with our Melbourne experts.
Frequently Asked Questions
Most customers pay between $165 to $550 for pest control in Melbourne. The price depends on infestation size, pest type, service location, type of treatment, and various other factors. You can submit your problem with us to get an estimated price for the service.
Yes, we are available to serve in Carlton and other suburbs of Melbourne. We have everything for your safety against pests and quick execution of the treatment in the outskirts and suburbs of Melbourne.
In a rental property, pest control responsibilities typically depend on the lease agreement. Landlords often cover the cost of routine pest control, while tenants are responsible for addressing infestations caused by their actions. Costs can vary widely based on the severity of the issue and the type of pests, so it's essential to clarify with your property manager or landlord who bears these expenses.
Our top priority is the safety of your family and pets. We exclusively use EPA-approved, eco-friendly pest control products. These products are carefully selected to minimize any potential harm to humans and animals while effectively addressing pest problems. Your well-being is paramount.
We offer a variety of convenient payment methods to suit your needs. We accept credit and debit cards, bank transfers, and cash. We procure secure and easy payments, making the process hassle-free for you.
Yes, we understand that pest problems can arise at any time. That's why our pest control service is available on weekends and holidays. We're committed to providing you with prompt and effective solutions whenever you need them, ensuring your peace of mind year-round.